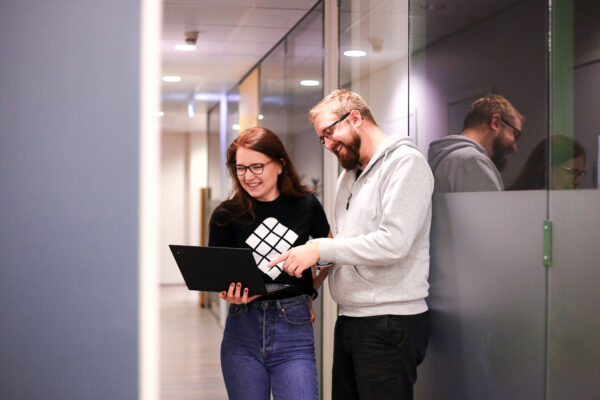 Full Stack Devaajaksi Sofokukselle
Sofokus etsii nyt riviinsä uutta Full Stack Devaajaa, ja se voisit olla sinä!
Pistä hakemus sisään 27.3. mennessä. Hakemusta tekemään pääset täältä.
---
Who are we looking for?
Hi there! ? Are you looking for a better Monday? Sofokus is looking for a Full Stack Developer (preferably – but not necessary – with previous knowledge in Django, Python and/or Node). We are eager to find a doer who wants to be involved in creating something new in the field of digital business solutions. If you feel that this could be the place for you, go ahead and continue reading.

What is Sofokus all about?
Hi! We're Sofokus. We equip organisations with products, services and know-how to reach their full potential in the New Normal era. As a company we are living the most interesting times, as our mission is to part of a paradigm change that is happening on software business globally: we are ready to conquer the market with composable business solutions. So, it goes without saying that now is the time to jump in!
It all started with a one man's dream in 2000 to create digital services that matter. Gradually this dream grew to a bigger band of people sharing the same uncompromising mission to create something that stands out and leads the way. Today we are around 40 people in all around Finland, we are listed as one of the fastest growing companies in Europe and we have a unique, award-winning company culture. As we are about to take our biggest and most exciting steps as a company, we also want to offer new opportunities for new people.

The position: Full Stack Developer
Our clients value our relentless search for "one step further" and this is also something we expect from our people. Work at Sofokus requires tremendous independency but you'll have the power to organize your own work tasks and ways of working. However, you will also have a team of experienced professionals around you all the time to help you whenever needed. 

What you'll work on daily
✅ Changing and varying client projects with technologies such as Django and Python, Node, React and TypeScript, Uniqore, Google Cloud
✅ Learning something new as our technology choices depend on the needs of our clients


Objectives for the position
? You have found your place in our team and feel proud to be a part of Sofokus
? The people you have worked with value your insights and input
? You are independently developing our client projects with good quality code
? You are eager and willing to learn more 


To succeed in this position, you should have
? Excellent English or Finnish language skills to fluently communicate both with your team and the client
? Motivation for continuous learning as our business develops and changes fast
? Previous work experience in software development to independently develop even complex client projects with APIs and databases
? Passion for good quality code

Experience in Django and Python, Node, React and TypeScript, GCP or AWS is considered as a plus. 

You get ?
✔️ Comprehensive on-boarding with your designated Sofokus tutor
✔️ Fun and brilliant group of co-workers, who are there to support you at anytime
✔️ Possibility to develop yourself professionally and proceed with your career without stiff organizational structures
✔️ A fast-paced, exciting work environment
✔️ Challenging projects with technologies such as Django and Python, Node, React, GCP, Uniqore
✔️ Opportunity to work wherever in Finland
✔️ Possibility to work abroad within the EU boarders for a few months a year
✔️ Flexible work hours

Unfortunately, we cannot offer relocation services and therefore we hope you are already living and working in Finland. Before applying, take a moment to get to know us and our company culture. We are a bunch of happy people, who joke a lot and believe in the power of good laugh. Your time and skills are valuable, and we want you to feel at home with us. Perhaps we could offer you a better Monday?
How to apply?
We hope to receive your application and CV with a portfolio (e.g., GitHub link or a short description of your recent projects) by 27.3.2022. Please note that our recruitment team is on holiday between 14.-20.3.2022 and won't be answering any questions during this time.